It was all "Hands Off" at our Tech Lunch Event Featuring the latest in Non-Contact Scanning Equipment
On October 10th, CMMXYZ opened its doors to welcome roughly 50 industry professionals representing 24 companies from across Southern Ontario. Our latest open house focused on "hands off" non-contact measurement equipment. On display in our showroom that day were 3 very different systems:
Leica AT960 SR Scanning Tracker
The brand new 85 Series Hexagon Absolute 7-Axis Scanning Arm
AICON Smart Scan: a white light, optical scanning system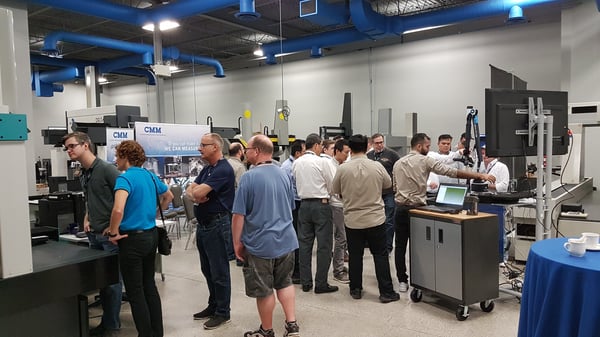 Our popular Tech Lunch event welcomed customers into our CMMXYZ showroom
One of the many benefits of attending this type of event is that you can quickly evaluate what equipment works best for your application. Several attendees brought their manufactured parts with them which we quickly set up and scanned on a few different systems. This allowed our visitors to compare each system in terms of ease-of-use, accuracy and set up time.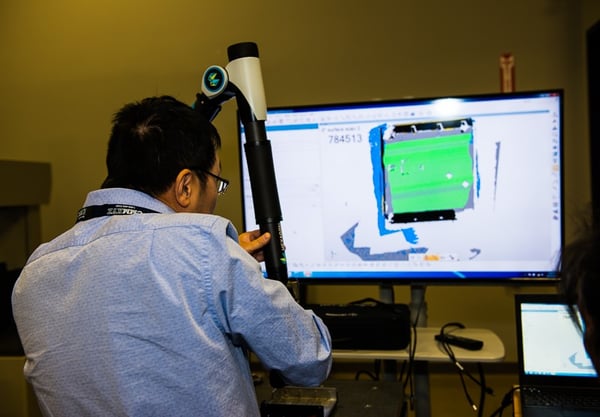 A Tech Lunch attendee using the latest Absolute Scanning Arm to measure a part
One of the most popular items on display was the newly re-designed 85 Series Hexagon Absolute Arm. The new design allows the laser scanner and pistol grip to be completely removed facilitating easy probing in tight spaces. The wrist now features a display screen that allows for measurement result oversight. These new features allow for improved usability and versatility without compromising on speed or accuracy.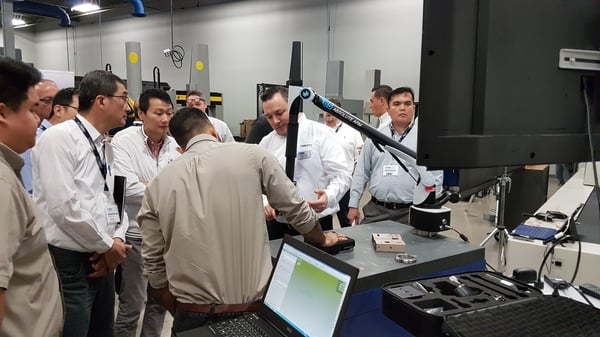 CMMXYZ Applications Specialists demonstrating the new Hexagon 85 Series Absolute Scanning Arm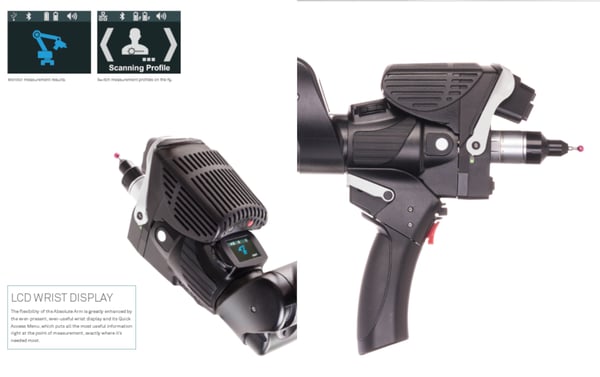 A brand-new look to Hexagon's latest Absolute Arm featuring an LCD Wrist Display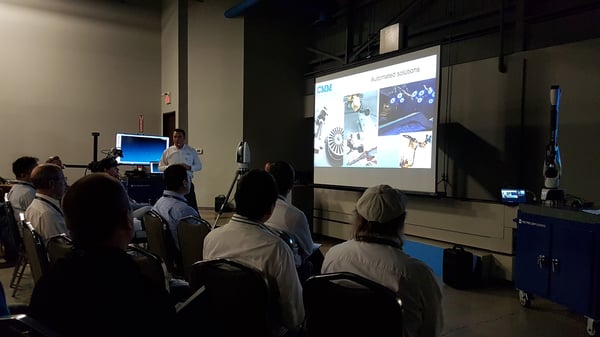 CMMXYZ staff giving a presentation on portable measuring solutions
Our goal at this event was to educate Quality professionals in alternative means of measurement. Most who work in the precision measurement field these days are familiar with the standard CMM type of inspection, but with the Ontario manufacturing sector becoming increasingly more diverse and reporting standards more stringent, companies are looking for solutions that utilize cutting-edge technology tailored to their specific needs ranging from quick & easy colour mapping to high-end white light scanning.
At CMMXYZ we are proud to be North America's leading independent measurement services provider. Remember, if you can make it, we can measure it!
If you missed our Tech Lunch and want more information on the equipment we had on display, visit the new product section of our website, or contact us and book a demo!