Portable CMMs
There are many varieties of portable CMM devices, both contact and noncontact styles. The major product categories of portable machines include articulating arms and laser trackers.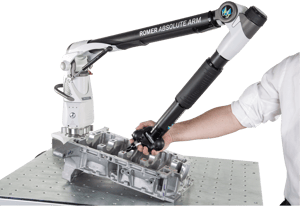 Articulating arms or portable arms are by far the most popular of all the categories. They are relatively inexpensive, extremely lightweight (at less than 20lbs) and can be used either as a tactile or laser device.
The original product was designed and built in the 1980s by Romer, and it was widely adapted for industrial measuring tasks where the part that is being measured was either too difficult to move or too inconvenient.
There are two basic configurations of arms, either a six-axis or seven-axis system. Both systems move freely in three-dimensional space; however, the six-axis arm is more suitable for tactile work or probing, while the seven-axis arm offers greater movement for arms equipped with a laser.
Major manufacturers of articulating arms are Romer (Hexagon MI) and Faro, and there are also some smaller manufacturers, such as Kreon in France and Nikon in the USA.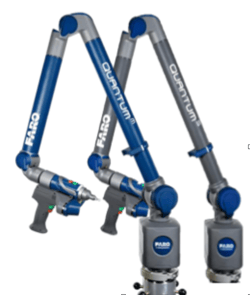 Portable arms are available in sizes from a 3- to 16-foot (900mm-4.9m) spherical radius. Although the portable arm's accuracy depends on the operator, the accuracy is quite respectable, in most cases coming in at less than .002 inch with point repeatability in the .00015-inch range. Just like coordinate measuring machines, there is an accuracy specification for portable arms, namely B89.4.22 and VDI/VDE 2617-9. Within this specification there is a point repeatability test and a volumetric accuracy test. And just like a coordinate measuring machine, regular calibration is necessary.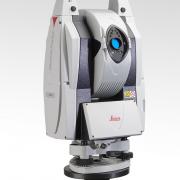 Laser trackers were originally designed for assembly operations in aircraft manufacturing. Optical targets were fitted to both components that were to be assembled, such as wings that would be attached to the fuselage of a large aircraft or assembly of the body sections. In these cases, the laser trackers followed the targets and allowed precision assembly. Basically, the laser tracker, which is usually tripod mounted, measures the position of an optical target, which can be moved by hand to literally probe the part being measured. These spherically shaped targets are called retroreflectors and are available in many diameters, up to 2 inches.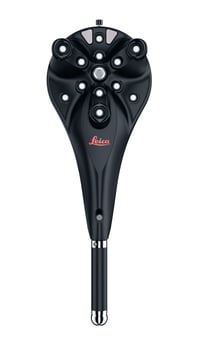 Many laser trackers have the ability to utilise a three-dimensional handheld probe. This allows the laser tracker to work something like a coordinate measuring machine and requires no complex maths skills to compensate for the probe radius, as is necessary with a retroreflector. Once the laser tracker has been equipped with a handheld probe, it can be used as a portable CMM machine with accuracy of less than 30 µm over distances less than 5 m, it has become an extremely versatile tool.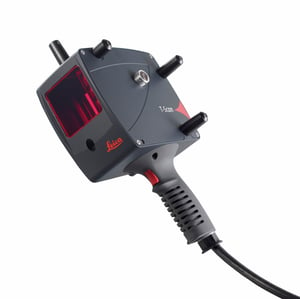 Handheld laser scanners can now be attached to the laser tracker, enabling the tracker to be a totally portable coordinate measuring machine on the shop floor with the ability to probe and scan. At the present moment, only Leica has the ability to do this. Other options are now commercially available, such as optical targets for machine tools and robots. This mode of scanning is especially interesting, because it allows for the calibration of large machine tools and for precision positioning of robots or other large devices.
The first laser tracker to be commercially produced was by Leica in Switzerland in 1991. Today there are several major manufacturers, including Leica, Faro, and API.
Many of the comprehensive software manufacturers support laser trackers, particularly manufacturers that work with articulating arms. Most notable are PC-DMIS, Verisurf, Polyworks, Spatial Analyser, Metrologic, and Geomagic.
With the ability of some models to measure up to 80 meters at impressive volumetric accuracies, the laser tracker has become the go-to piece of equipment for large part manufacturing and assembly.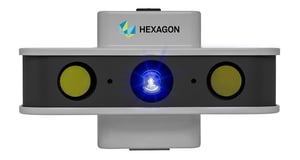 White light scanning Metrology is the latest development in portable coordinate measurement and scanning. Many white light scanners are used for R&D purposes, but more and more they are being utilised for measurement on the shop floor, as they are extremely portable and generally tripod-mounted. Data is obtained by projecting a grid pattern on the component being scanned, from this, the optical camera determines the three-dimensional coordinates of the part.
White light scanning systems can be utilised on robots or on a transportable boom arrangement. They generally feature 2 to 4 digital cameras and can provide fields of view from 75 mm to 1.5 m. White light systems work like a camera, and each shot can collect hundreds of thousands of data points in a couple of seconds. Their advantage over other shop floor measurement systems is they are extremely accurate, in many cases to less than 10 µm, and provide detail on small complex components, which lasers cannot achieve.
Many software products used with articulating arms and lasers provide the capability of both scanning and dimensional measurement.